Producing  SOLE SURVIVOR-ÚNICA SUPERVIVIENTE
SOLE SURVIVOR-ÚNICA SUPERVIVIENTE
Written and Directed by Celia Novis
Produced by Manel Ferrera and Celia Novis
SOMIANT PRODUCTIONS
Filmed in New York and Florida, 2014-2017
Trailer 1:    https://vimeo.com/124661130
Trailer 2:    https://vimeo.com/124661130
(TEXTO EN ESPAÑOL MÁS ABAJO)
ABOUT THE FILM
History. Art. Spain. America. These are the four essential elements of Sole Survivor, a documentary film that follows the evolution of La Nacional – Spanish Benevolent Society (founded in New York City in 1868): the oldest non-profit society in the U.S.A created for Spanish-Americans and Spaniards as they begin their American journey.
La Nacional – SBS is the only surviving remnant of Little Spain, the only testament of both its golden age and of the violent and tumultuous times that eventually resulted in the disappearance of the entire enclave.
Domingo Zapata, a Spanish painter famous in the US, (known as "the new Andy Warhol") accompanies us on this historical adventure, intertwining the creative evolution of his painting (inspired by the movie's script) with the stories of the Society and the immigrants who comprise it.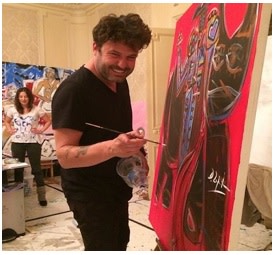 With passion and reverence, our documentary strives to demonstrate the importance of the Society's presence in one of the most vivacious (and unknown) neighborhoods of 20th century New York: Little Spain.
WHY LA NACIONAL'S STORY MUST BE BROUGHT TO LIGHT
 During the 20th Century, thousands of Spaniards came across the Atlantic Ocean to seek a better life in America. La Nacional was the place where they found food, rooms, healthcare, and relationships – both business and personal. Surrounding this non-profit society, a neighborhood arose – Little Spain – which thrived for decades until drugs and gentrification pushed people out of the neighborhood forever.
But today, the community has faded away. The restaurants and stores have closed. The other clubs and societies have long gone. Even La Nacional itself nearly closed its doors forever a few years ago. But a new revival is taking place as the Society embarks on another golden age.  THE TIME IS NOW to document its story as La Nacional, the "Sole Survivor",  prepares for its 150th anniversary.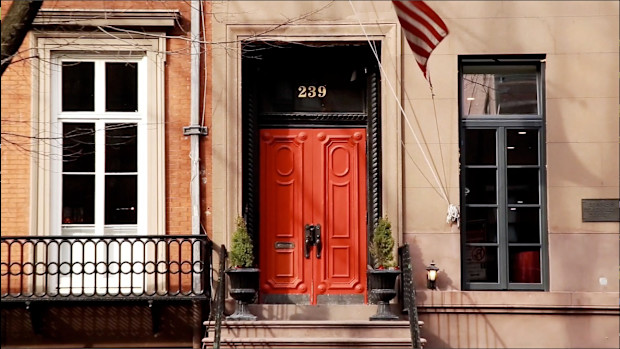 We as a community have an obligation to save these New York institutions, as they continue to fall victim to sky-high real estate speculation and gentrification.
Even the  most stable non-profits are being tempted to sell-out, unable to resist the astronomical offers for their buildings or other property holdings.  They are closing at an alarming rate.  And worst still, their amazing and essential non-profit work for the community disappears with them.
La Nacional was on this brink 5 years ago and is now fighting to preserve its long-term future. The Society is at the forefront in its protection of the Spanish cultural and historical heritage in New York City.  This is our goal as producers of  Sole Survivor,  a film about the ups and downs of this vital institution. We are telling a story that has yet been told and chronicling a truly unknown chapter in New York City's history.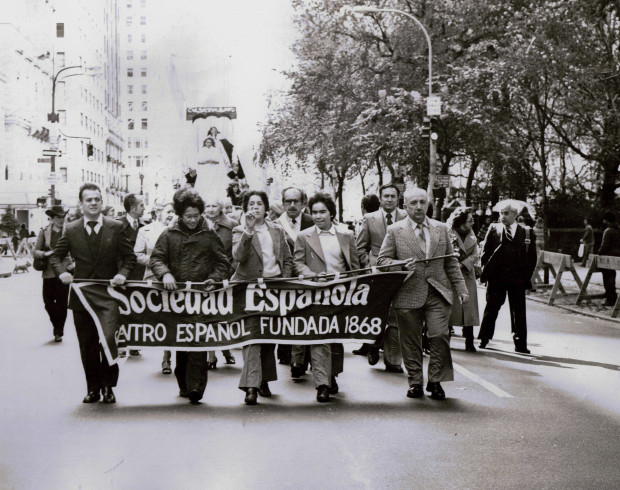 We are giving voice to those men and women who made their lives in and around La Nacional – sharing their memories, their stories, their legends.
MOVIE'S FEATURE
This film is not the usual "talking heads" documentary film. We choose an artistic and atmospheric way to show La Nacional's history. There are two main characters:
La Nacional itself, who speaks in first person, and  Zapata's painting, inspired by our script. Apart from that, we have some testimonies and important archives and old film footage (family images shot in 16mm) that are going to be released for the first time. We plan to merge American and Spanish music thanks to a unique soundtrack composed exclusively for this movie.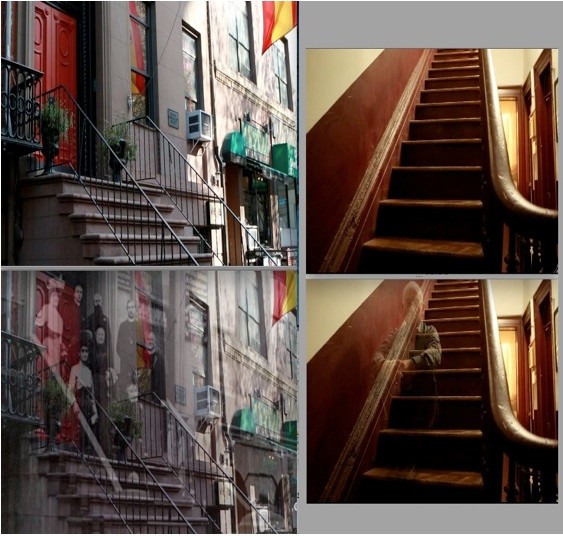 An example of overlapping images in the same place (old &nowadays images)

HOW WILL YOUR DONATION BE USED:
We are self-funding the film so far, but we need money to complete the movie. Obviously to do this we need a crew – and we need to pay them!  From camera operators to post-production, we are looking for ways to compensate them for their talents.  We also need to rent additional equipment, like cameras, sound recorders or spotlights.
Your funds will also go to directly preserving the Spanish historical legacy – researching, purchasing and preserving archives. As well as transferring / converting old film footage. And, of course, creating the soundtrack.  All in all, we need your help to finish the film and seek distribution channels.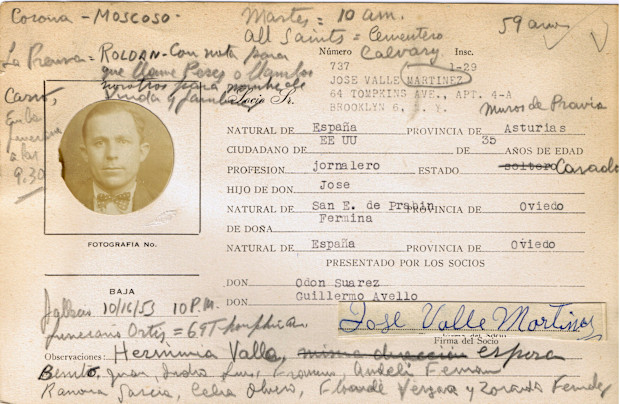 We have the official support of the Spanish Government (through the Spanish Consulate in New York) and La Nacional (we are the official film of the Society). But we need more support in order to finish this endeavor.
We have been surviving thus far investing our own funds and receiving help from friends who love Spanish-American culture – and love us!  They trust our project and believe in us. Please do the same. With your help we will make this dream possible!!!
RISKS AND CHALLENGES
We have been working, researching and producing this film for a year and a half. We have been honest and upfront with our staff and crew – if we don't have money to pay the crew we don't film – even if it delays the production process. When money comes in, we film. But there is an urgency to move forward. Many of our interview subjects are quite elderly – in fact, two of them passed away early in 2015.
 And without documenting their testimonies, they are lost forever.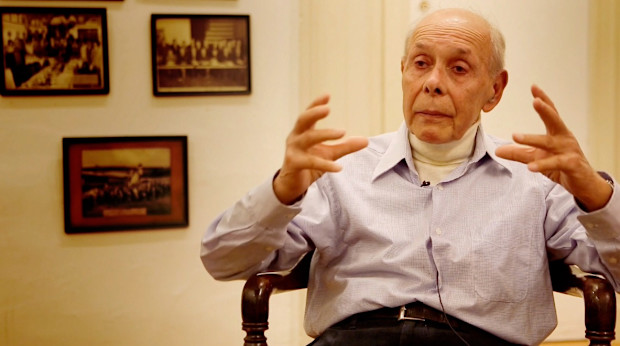 Our project is humble but ambitious, and that's why is ideal for us: it is an opportunity for friends, family, and strangers to contribute towards a common goal: the telling of the Spanish immigration story and preservation of  this uniquely New York saga. But we need your help!  With your small contribution we can start to raise the money needed to compete our production by the end of the year and with the highest quality.  Our goal is possible, and with your help we are confident we can make it!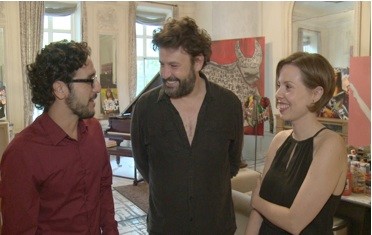 ——————————————————————————————————-
(ESPAÑOL) 
LA PELÍCULA
Historia. Arte. España. América. Estos son los cuatro elementos esenciales de Sole Survivor, una película documental que muestra la evolución de La Nacional-Spanish Benevolent Society (Sociedad Benéfica Española), fundada en Nueva York en 1868. Es la organización benéfica más antigua creada por españoles/las en Estados Unidos, fundada para los Hispanoamericanos/as y para los españoles/as que iniciaban su viaje americano.
La Nacional-SBS es la única superviviente de Little Spain, el testigo tanto de su época dorada, como de los tiempos tumultuosos y violentos que llevaron a la desaparición de todo el enclave. 
Domingo Zapata, un pintor español de reconocida fama en los Estados Unidos (se le conoce como "el nuevo Andy Warhol"), nos acompaña en esta aventura histórica: entrelazamos la evolución creativa de su pintura (inspirada en el guión de la película) con las historias de la sociedad y de los inmigrantes que la poblaron y la llenaron de vida.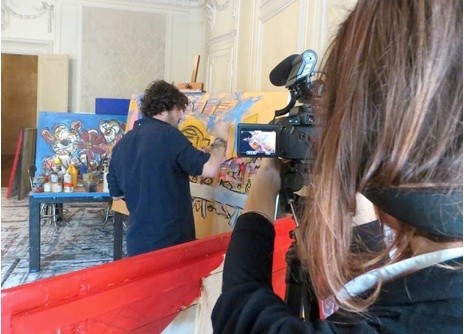 Nuestro documental se esfuerza en mostrar la importancia de la presencia de esta Sociedad en uno de los barrios más vivaces (y desconocidos) del Nueva York del siglo XX: Little Spain (la Pequeña España).
POR QUÉ LA HISTORIA DE LA NACIONAL DEBE DARSE A CONOCER
Durante el Siglo XX, miles de españoles cruzaron el océano Atlántico en busca de una vida mejor en América. La Nacional era el lugar donde encontraban comida, habitaciones, atención médica y relaciones -tanto de negocios como personales-. Alrededor de esta Sociedad Benéfica nació un barrio, Little Spain, que prosperó durante años hasta que el negocio de las drogas y la gentrificación echaron fuera a su gente, para siempre.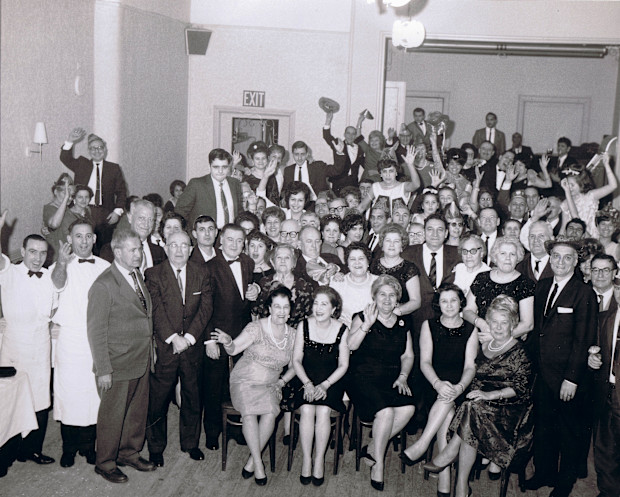 La comunidad se ha desvanecido hoy día. Los restaurantes y las tiendas cerraron. Otros clubs y sociedades hace tiempo que también desaparecieron. La Nacional, de hecho, también estuvo a punto de cerrar y ser vendida hace unos años.  Pero en estos momentos está renaciendo y la sociedad se está embarcando en su segunda edad de oro. AHORA ES EL MOMENTO IDEAL para documentar su historia ya que La Nacional, la "Única Superviviente", se prepara para celebrar por todo lo alto su 150 aniversario.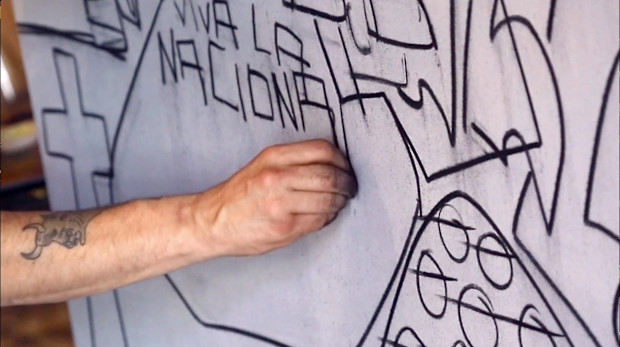 Nosotros, como comunidad, tenemos la obligación de salvar a estas instituciones de Nueva York, ya que siguen siendo víctimas de la implacable especulación inmobiliaria y la gentrificación. Incluso las organizaciones sin ánimo de lucro más estables están siendo tentadas a ser vendidas, incapaces de resistir las ofertas astronómicas por sus edificios y otras propiedades. Están cerrando a un ritmo alarmante. Y peor aún, su increíble e imprescindible trabajo de ayuda a la comunidad desaparece con ellos.
La Nacional estuvo en esa situación hace 5 años y ahora está luchando para preservar su futuro a largo plazo. La Sociedad sigue a la vanguardia en la protección del patrimonio cultural e histórico español en la ciudad de Nueva York. Este es también nuestro objetivo como productores de "Sole Survivor": una película sobre los altibajos de esta institución crucial. Estamos contando una historia que aún no se ha contado, estamos documentado un capítulo verdaderamente desconocido en la historia de la ciudad de Nueva York.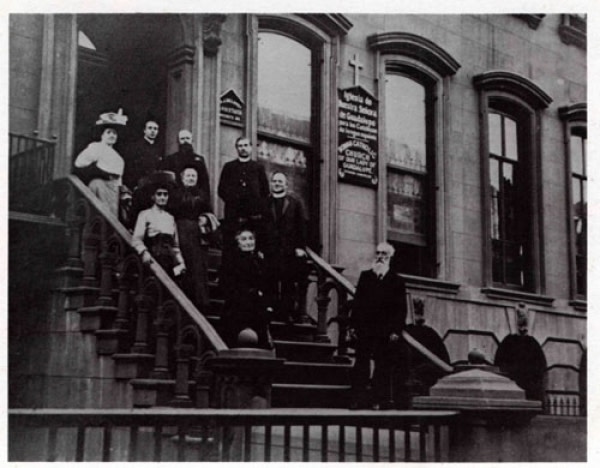 Y con nuestro trabajo, estamos dando voz a aquellos hombres y mujeres que hicieron su vida en La Nacional y sus alrededores- compartiendo sus recuerdos, sus historias, sus leyendas.
CARACTERÍSTICAS DE LA PELÍCULA
Esta no va a ser la típica película documental de declaraciones a cámara. Escogemos un camino más artístico y atmosférico para contar la historia de La Nacional.  Tenemos dos protagonistas principales: La Nacional misma, que habla en primera persona, y el cuadro de Zapata, inspirado en nuestro guión.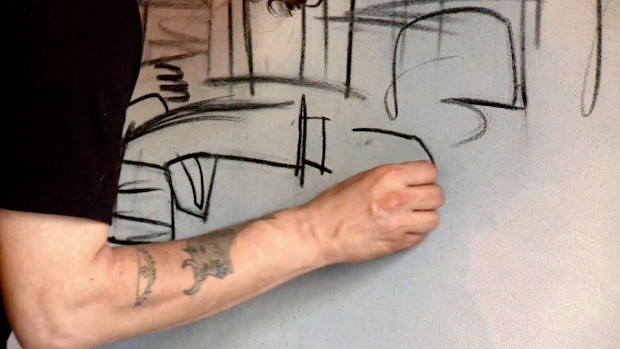 Paralelamente, tenemos testimonios e importantes archivos antiguos fotográficos y audiovisuales (películas familiares rodadas en 16mm) que van a ser mostradas por primera vez.
La música también será crucial en esta película, gracias a una banda sonora compuesta exclusivamente para el film donde se fusionará la música americana y española.
CÓMO VAMOS A UTILIZAR TU DONACIÓN:
Hasta ahora hemos autofinanciado la película y necesitamos más dinero para acabar la película (rodar, editar, post producir).
Lógicamente, para hacerlo necesitamos un equipo de trabajo, y ¡hay que pagarles! Desde operadores de cámara hasta técnicos en post-producción, estamos buscando la manera de compensarlos a todos por su talento. También tenemos que alquilar equipos adicionales, como cámaras, grabadoras de sonido o focos.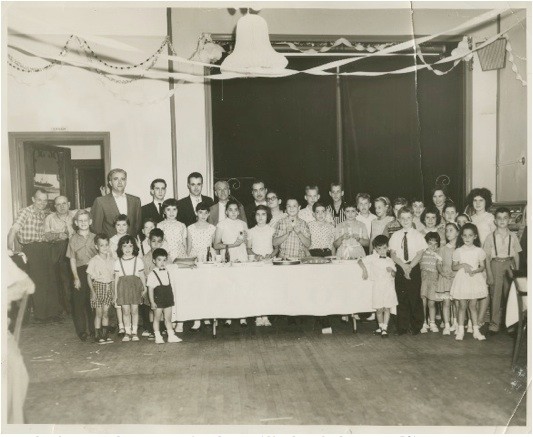 Vuestros fondos también se destinarán a preservar directamente el legado histórico español: investigando,  adquiriendo y preservando archivos que a veces hay que pagar. Aparte, hay que convertir material de archivo (películas en 16mm) a formato digital. Y crear la banda sonora. En definitiva, necesitamos vuestra ayuda para terminar la película y buscar canales de distribución.
Tenemos el apoyo oficial del Gobierno español (a través del Consulado español en Nueva York) y de La Nacional (somos la película oficial de la Sociedad). Pero necesitamos más apoyo para terminar esta tarea.
Hemos estado sobreviviendo hasta el momento invirtiendo nuestros propios fondos y recibiendo ayuda de amigos que aman la cultura española-estadounidense  (y que nos quieren también). Ellos confían en nuestro proyecto y creen en nosotros. Por favor, haced lo mismo. ¡¡Con vuestra ayuda vamos a hacer posible este sueño !!
RIESGOS Y RETOS
Hemos trabajado durante más de un año y medio en la búsqueda de material y la producción de esta película.  Siempre hemos sido honestos y directos con nuestro equipo: si no tenemos dinero para pagarles no filmamos (aunque esto retrase el proceso de producción). Solo cuando el dinero entra, rodamos. Pero ahora mismo hay una urgencia en avanzar. Muchos de nuestros entrevistados son muy ancianos, de hecho, dos de ellos fallecieron a principios de 2015. Y si no documentamos sus testimonios se perderán para siempre.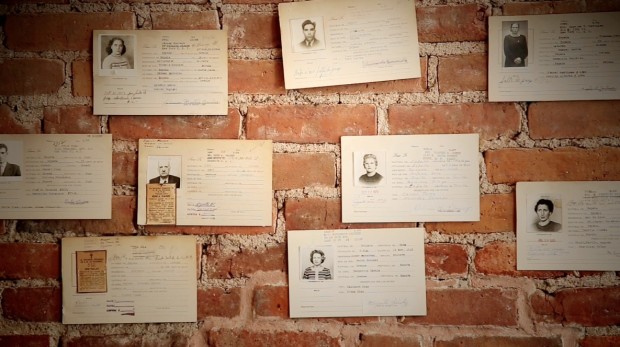 Nuestro proyecto es humilde pero ambicioso y por eso es una oportunidad para amigos, familiares y desconocidos de contribuir en este objetivo común:  la narración de la historia de la inmigración española y la preservación de esta saga única en Nueva York. ¡Pero necesitamos vuestra ayuda! Con vuestra pequeña contribución podemos empezar a recaudar el dinero necesario para completar nuestra producción a finales del año y con la más alta calidad. ¡Nuestra meta es posible, y con vuestra ayuda estamos seguros de que podemos hacerlo!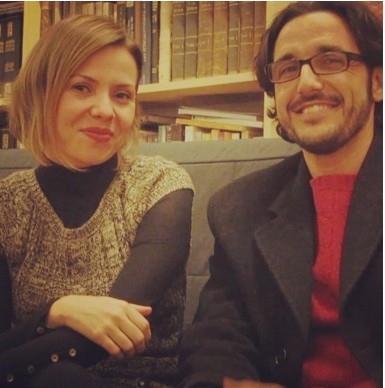 Celia Novis & Manel Ferrera